This exclusive series by Lisa Phifer examines how deploying 802.11n can improve your wireless LAN's (WLAN) performance enabling mobility services that make workforces informed and productive. To be competitive, workers need ready access to data, people and tools for collaboration and decision making. By deploying 802.11n you can extend your network to deliver multimedia over wireless making services like unified messaging and video conferencing available wherever needed.
Don't miss any of the articles in this tutorial on deploying 802.11n for improved wireless LAN performance:
---
Legacy 802.11a/g WLANs could muster only limited support for these services, but new 802.11n products dramatically improve the ability to deploy WLANs that deliver multimedia effectively and reliably. This series covers best practices for deploying and optimizing 802.11n to support data, voice and video applications.
This first section briefly explains how 802.11n differs from legacy WLANs by introducing key features like MIMO, spatial streams, packet aggregation, beamforming, and channel bonding. After reading this section, you will understand how each of these features can contribute to an 802.11n WLAN's increased speed, capacity, reach and reliability.
802.11n in a nutshell
The IEEE 802.11n high-throughput (HT) standard represents a pivotal point at which WLANs are considered robust enough for prime-time use.  Old 802.11a/g access points (APs) could not achieve data rates above 54 Mbps (~27 Mbps of TCP throughput). Because signal strength and speed decline over distance, clients had to stick to small areas or roam frequently, disrupting latency-sensitive applications. Capacity was constrained by cramming all APs into just a few crowded channels – aggravated by 2.4 GHz interference from Bluetooth peripherals, cordless phones and video surveillance cameras.
802.11n overcomes these problems by using additional antennas, advanced signal processing, more efficient protocols and a bigger channel pool. Key features, and how they improve WLAN speed, capacity, reach and reliability, are summarized below.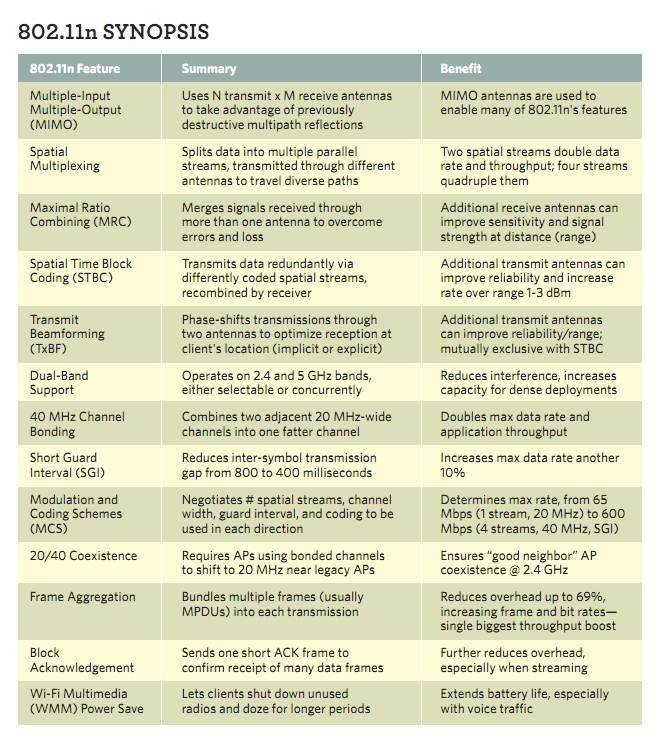 Enlarge 802.11n synopsis diagram.
Product support for 802.11n features varies quite a bit. To help consumers identify interoperable products, the Wi-Fi Alliance operates Wi-Fi CERTIFIED n test programs.
 
-- All Wi-Fi CERTIFIED n APs must transmit and receive at least two spatial streams, receive aggregate frames and block acknowledgements, and support WMM quality of service (QoS) and WPA2 (802.11i) security.
-- Dual-stream CERTIFIED n APs must additionally support A-MDPU and STBC transmission and (if 5 GHz is implemented) 40 MHz channel bonding.
-- Multi-stream CERTIFIED n APs must satisfy these same requirements, but for 3x3 or 4x4 spatial streams.
-- All Wi-Fi CERTIFIED n client devices must satisfy slightly less stringent requirements, starting with a minimum 1x1 spatial stream.
Notice that dual-band support, SGI and TxBF are optional. Look closely at Wi-Fi certificates to avoid band mismatch and lower-than-expected max data rates. To learn more, visit the Wi-Fi Alliance website and SearchNetworking.com's WLAN learning center.
Next: 802.11n design best practices
This was first published in February 2011